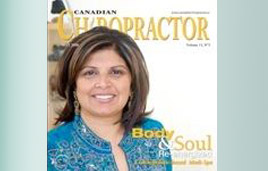 Dr. Jinnah believes that health and beauty go hand in hand.
Inside each of us is an untapped inner potential that is waiting to be released, like the butterfly that emerges vital, strong and beautiful from the chrysalis. Our range of services, all offered under one roof, will help you find and release that inner potential you know you have.
That elusive inner peace is achieved through the harmony of mind, body, heart and soul. With proper care and nurturing, your unique potential is allowed to grow and flourish though our exclusive integrated approach to health and beauty. One cannot be achieved without the other, and we offer the widest range of services available to make you look and feel your very best.
Dr. Jinnah employes pain management, laser Therapy, nutritional counselling and weight loss.
As important as our carefully selected range of services is our atmosphere. So whether for an hour or a day, for a pedicure or a full body makeover, be our guest in a relaxed, friendly, low-pressure environment where your happiness and well-being is our only concern. Whole-body health and beauty is a unique combination of art and science – a combination as unique as the professionals and practitioners at my Chrysalis Medi-spa Salon.
And because so much of what we do has a direct effect on your health and well-being, much of it can be covered by your extended health plan.