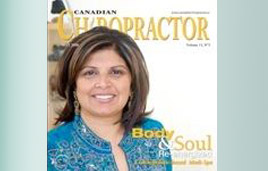 The spine is the superstructure of your body. All nerve impulses, from the tips of your fingers to the tips of your toes, travel through the spinal column. It is also the centre for mobility – it is through the spine that we bend, twist and lean. A misaligned spine can put strain on other bones and muscles and impede the proper functioning of our nerves, which control our muscles, blood flow, immune system and organs. A properly aligned spine allows the vertebrae to move smoothly and independently, and allows the spinal column to transmit nerve impulses effectively throughout the body. This makes our movements comfortable and natural, and allows the highly complex mechanism that is our body to operate at maximum efficiency. Chiropractic care is a discipline devoted to ensuring long-term health through proper spinal alignment.
Many factors can affect spinal alignment. Weight, stress, posture, diet, profession, sports… even restrictive clothing can prevent the spine from being properly aligned. Chiropractic physically realigns the spine to optimize its function.
The body is a brilliantly adaptive piece of engineering. In order to maintain function, parts of the body such as the pelvis, musculature or joints will compensate for spinal misalignment, allowing the body to continue to function, albeit at a level somewhere below optimum. Chiropractic can also adjust this compensation in order to restore the optimal function of the body.
Chiropractic deals with spinal problems at the source, instead of masking the symptoms with painkillers and muscle relaxants. We often hear patients say, "I thought it would go away." Well, it can if you see our chiropractor. One of the country's leading chiropractors, Dr Jinnah has twenty-plus years of experience treating a broad range of ailments with a broad range of causes, from pregnancy to sports. Dr Jinnah will assess your individual situation and devise a drug-free treatment regime.
Chiropractic can treat:
Back ache
Head ache
Shoulder pain
Stiffness in the neck
Asthma and allergies
Sciatica
Shooting pains
Fatigue and lethargy
Torticolis
Arthritis
Sports injuries
Almost everyone can benefit from chiropractic. Whether you're feeling "creaky and old" or got a little too vigorous on the golf course, an appointment with our Doctor of Chiropractic will help you regain your youthful gait. Chiropractic treatment is covered by your extended health insurance plan.